BELL ART OPTIONS: The bell of the standard Rocky Mountain Alphorn reveals the warm glow of varnished wood; without any additional artwork. Many purchasers prefer to leave their Alphorn to the natural beauty of unadorned wood. Other purchasers have opted to commission one of their local artists to paint a special work of art on the bell of their Alphorn. I consider each Rocky Mountain Alphorn, with or without additional artwork, to be a work of art as well as a superior playing instrument.
CARVED / PAINTED BELL OPTIONS: I am currently working with a local artist, Doug Pauls, to offer to any purchaser the choice of one of several beautiful works of art for the bell of his/her Alphorn. The image at the right is a splendid example of Doug's artwork. It is carved in relief and painted in colour enamels and gold leaf. Doug also offers artwork options that are intricately carved, but not painted, for a more subtle effect. Many of his artwork subjects celebrate the folklore of the Alphorn. Follow this link to my Alphorn Bell Artwork page to see examples of the range of Doug's work.
PERSONALIZED BELL ART OPTIONS: At the purchaser's option a favoured alpine scene by artist Doug Pauls may be added to the bell of an Alphorn. The addition of such a "post card" scene may be an appealing option for resorts or mountain romantics.
EXOTIC HARDWOOD OPTIONS: For a customer who desires an Alphorn of striking beauty, I can offer an Alphorn with with a bell ring, collar, foot and mouthpiece receiver knob made from various beautiful and exotic hardwoods. For an example of this option please follow this link to my Alphorn Bell Artwork page.
MOUTHPIECE OPTIONS: Rocky Mountain Alphorns mouthpieces are made from beautiful and durable hardwoods from all over the world. Rim and cup styles similar to French Horn and Trumpet mouthpieces and ranging up to Alto Trombone styled mouthpieces are available. Every effort will be made to find a mouthpiece that is comfortable for players, but it should be understood that exact copies of particular mouthpieces are not possible. It is strongly recommended that the Alphorn be played with the supplied wooden mouthpiece. An adaptor for a French Horn mouthpiece can be supplied at the purchaser's request, but players who make the effort to blow wooden mouthpieces rarely return to metal, finding that wooden mouthpieces are warm to the lips and warm to the sound. Purchasing an extra mouthpiece is recommended for choice and for security. Alphorn mouthpieces from different manufacturers come in an assortment of shank diameters and lengths that are generally not interchangeable. For this reason requests for mouthpieces fitting Alphorns other than Rocky Mountain Alphorns cannot be honoured.
ALPHORN KEY OPTIONS: The traditional Alphorn length (described in folklore as the length of two men) is 11 feet, 6 inches. Horns of this length respond in the key of F-sharp. This key is accepted as the standard in Europe, although particular valleys have traditions loyal to Alphorns in the keys of G-natural or E-natural. For practical reasons, most North Americans have opted for the key of F-natural (length of 12 feet, 3 inches).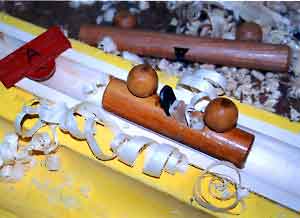 This key is becoming the standard in North America, although many Alphorns in other keys have been brought over from Europe. Most modern Alphorn music publishers now offer editions in both F-natural and F-sharp. Because Alphorn ensembles can only be played with instruments in the same key it is recommended that you buy an Alphorn to match the key or length of the Alphorns played in your area.
I do not recommend the short extentions that convert Alphorns to a lower key. By adding this short cylindrical section the bore of the instrument is compromised. The result is an out of tune Alphorn with some notes that will not fully respond. Although I can offer such a short extention to purchasers who insist on this less expensive option, the best solution to a two key (F-natural and F-sharp) Alphorn is a five piece Alphorn: A first and second section in the key of F-natural and a first and second section in the key of F-sharp, with a common bell section. Such an Alphorn will be in tune and responsive in both keys. The addition to the price of the Alphorn for this option is $1100.00 U.S. or $1100.00 Canadian. Please Call or email for details.
Alphorns are tuned to an electronic tuner calibrated to A=440 cycles per second.
ALPHORN CARE AND MAINTENANCE INSTRUCTIONS
ALPHORN MUSIC: A wide variety of music is available for the Alphorn. Although Rocky Mountain Alphorns does not sell music, we can direct purchasers to Alphorn music dealers, and provide advice as to the best music for players' needs. Please see our Alphorn Music page.
HEAR A ROCKY MOUNTAIN ALPHORN: You can hear sound excerpts from William Hopson's Alphorn compact discs on our RMA Compact Discs Webpage. William Hopson plays and records exclusively on Rocky Mountain Alphorns.
HARD-SIDED TRAVEL CASE: In cooperation with Qualicase of Calgary we can now offer a case for your Rocky Mountain Alphorn that is equal to the rigours of airline baggage handling. The frame is aluminum and the hard sides are strong, light and available in designer colours. On the inside, foam padding holds the Alphorn securely in place. The case has wheels and a key lock, and the wheels, handles and latches are all recessed. For more information about this fine case, please go to the relevant page of the Qualicase website. Please email for a price for this fine case.
WOULD-BE ALPHORN MAKERS: I get twenty or so requests every year from people asking me to help them in their project to make a hobby Alphorn. With regret, I must decline all such requests. I appreciate your enthusiasm, but I would rather spend time with my family. Good luck.
---
CUSTOMER TESTAMONIALS: Following is what a few purchasers of Rocky Mountain Alphorns have written about their Rocky Mountain Alphorns:
" I have been just blown away by how beautiful the art work is on it. From the side it looks almost like a 3-D reproduction of the actual mountain. The flowers are just right and the eagle what a perfect surprise. The whole thing is stunning and absolutely wonderful. We couldn't stop playing it all day yesterday (today our lips are paying for that). What an amazing instrument. The sound is haunting and powerful. I could not believe how easy the high register was. Wow. I have not been able to get my mind off of the project for months, always a prescription for disappointment, yet your instrument and the art exceeded everything I imagined. Thank you so much for you impressive work. My wife fell in love with it immediately. Our kids 21 and 18 (normally very disinterested in our musical endeavors) are actually inviting friends over so they can see and hear the alphorn." {a French Horn player from Washington State who bought an Alphorn for his French Horn playing wife}
"I love my new Alphorn. It is really a great one!" {Marvin McCoy of the Matterhorn Alphorn Duo}
"The horn is great: Wonderful sound & playability, beautiful bell carvings and solid construction - what more can you ask for in a Swiss alphorn - I love it!" {Alphorn enthusiast and collector Gary Bang}
"This is excellent high quality work with the attention to detail I would expect of myself, and I don't generally find that in things others have made. In a word, you're GOOD!" {Ernest Jenner, woodcarver}
"From the first note, the alphorn was "home" - familiar and feeling right. The sound, intonation, and feel of my new alphorn are awesome. This instrument is truly my dream come true." {a principal horn player in a major symphony orchestra}
"Just wanted to let you know the horn arrived. Everyone thinks you did a great job on it. Thank you. It looks and sounds wonderful. The carving is exceptional. The colors really worked out well. " {a member of an East Coast Schuhplattler Group}
"We've played countless shows for school kids, and as you can imagine, the alphorn is always the star of the show! (not me, mind you, the alphorn!) The kids just love it, and so do I! Love the sound, the response, the even intonation, and of course, love the beautiful craftsmanship!" {an Associate Principal horn player in a top five east coast orchestra}
"It is a thing of beauty. I like both the medallion and the hummingbird scene, which is delightful. Please extend my gratitude and compliments to Doug. I played Amazing Grace in an Irish pub last night in exchange for Guiness on the house. Got a nice round of applause and LOTS of questions. Also, I checked out intonation with a tuner and was astonished to discover that just about every note (well, not Bb or F) was dead on." [Editor's Note: In the natural harmonic series of the Alphorn, the B-flat and the F should not be in tune with an electronic tuner. The writer is aware of this and is complimenting the RMA Alphorn.] "All around, very impressive!" {a new Alphorn owner in Michigan}
"The alphorn has arrived! It's in perfect shape and I love it. I'm so surprised at how easy it is to play, I think it's easier than my french horn. Your craftsmanship is beautiful as is the carving by Doug. It's exactly what I wanted." {A new Alphorn owner in Pennsylvania}
"The Alphorn is an absolute masterpiece, in craftsmanship and, above all, in musical instrument making. What a difference to the to the factory made ones I'm used to play! Pitch to my ears is perfect over three octaves and the ease in response overall speaks volumes of your mastering the art of alphornmaking. I am truly looking forward to playing my new alphorn as many times as possible and I'm sure I will love every minute doing so. Also could you please tell Doug that his artwork represents exactly the scene I had visualised and that I am very happy having commissioned the work to him. The carving and colouring captures the [local] scenery in a most unique and special way." {an enthusiastic Alphorn purchaser in Ontario}
---